Charity

The participants to our Symphonic Holidays, with giving a concert performance at the end of the holiday support institutions of music education. If mentioned in the description of a Symphonic Holiday on this website, these final concerts will be fund raising concerts in favour of one of the following institutions.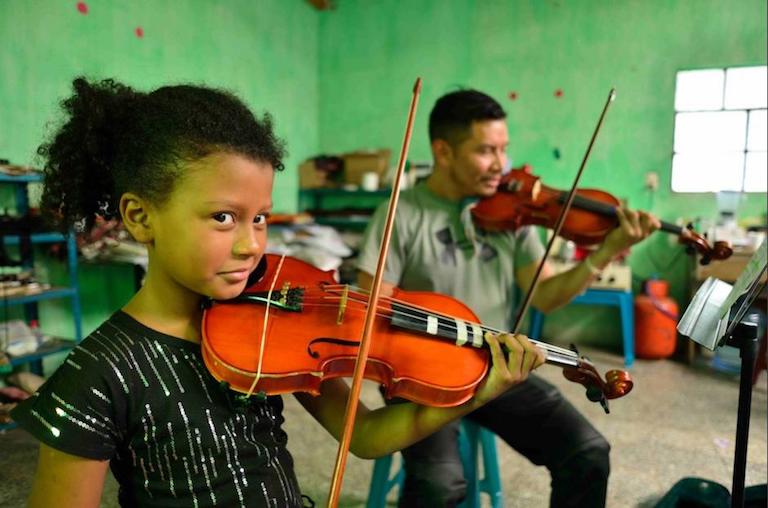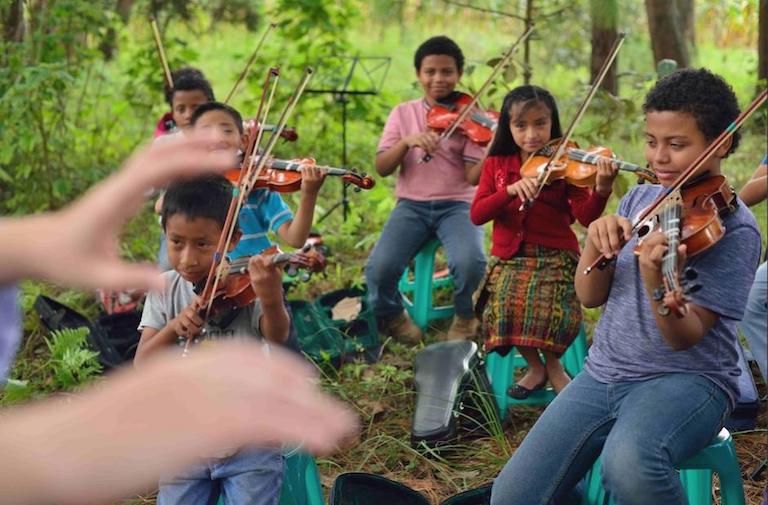 Balanyá Youth Orchestra
The Youth Orchestra of Balanyá, a village in the highlands of Guatemala, was established in 2003 by the local teacher Edras Patá. The children and young people of Balanyá are given the opportunity to learn an instrument and to experience the benefits of playing in an orchestra.
Young musician volunteers regularly travel to Balanyá for short periods to support this institution and to participate in the instruction of the young Guatemalan musicians. Karolin Spegg, a cellist and graduate from the College of Music in Freiburg / Germany, who had previously been working with the children in Balanyá, participated in the May orchestra in Bardou in 2018 and shared with the orchestra and with the audience of the final concert her experiences and how this project is providing life changing opportunities to these young students and children from Balanyá.
With the money raised from the concerts of our Symphonic Holiday for string orchestra taking place every May in Bardou, the German charity El sonido de Balanyá – ein Dorf erklingt e.V. ("The sound of Balanyá") will be able to finance musical instruction, to buy and maintain instruments, finance the infrastructure for rehearsals and provide bursaries for young students.
For more information (in German language) please visit the charity's website. The Balanyá Youth Orchestra is on Facebook. Watch this video on the orchestra in Spanish language.
Money raised from the concert in Villemagne l'Argentière on 26th May 2018: 420,- €
Money raised from the concert in Villemagne l'Argentière on 25th May 2019: 440,- €

Afghanistan National Institute of Music
The Afghanistan National Institute of Music (ANIM) was founded in 2010 and since has risen to become known both locally and internationally as the most important, effective, and successful music education institution leading intercultural dialogue in Afghanistan and the region. Through its growth and progress, ANIM has proven that the role of music education is vital in rebuilding a war-torn country and contributing to the establishment of a just and civil society.
ANIM is committed to ensuring the musical rights of Afghan children, promoting musical diversity in Afghanistan, transcending cultural ethnic, religious, and gender barriers, and transforming the lives of Afghan children through its many programs. ANIM provides a dynamic, challenging, and safe learning environment also to the most disadvantaged and vulnerable children in Afghan society – the orphans, street-working vendors, and young girls.
Our support with fund raising concerts in Cefalù / Sicily will focus on the Afghan Women's Orchestra that has been formed in 2014 as an ensemble at ANIM, allowing a protected environment for young female musicians to develop their skills. It began with fewer than ten players, but now over 30 young Afghan women play together. They rehearse twice a week, with more intensive rehearsals before concerts. The older students help out the younger ones, and they also choose their own repertoire. They play Afghan and Western music and are conducted by specialist teachers and students.
Our team member and conductor Cayenna Ponchione has travelled to Kabul and is in close contact with ANIM'S founder and director Ahmad Naser Sarmast and with staff and students of ANIM. Cayenna Ponchione is Associate Conductor of the Oxford based Orchestra of St John's and has established a cooperation between St John's and the musicians from Kabul. A project in March 2019 will bring several older and more advanced members of the Afghan Women's Orchestra from Kabul to Oxford for a two-week residency. During their residency they will each be twinned with one female Oxford student as well as one female school student. They will have the opportunity to make chamber music with OSJ players, explore the educational opportunities in and around Oxford in formal and informal settings, perform alongside OSJ players in a side-by-side concert in the Sheldonian theatre, share their own experiences and stories through panel discussions and open forums, take part in musical leadership training with the conductors of OSJ, and socialise with their UK colleagues.
Visit ANIM's website for more information: www.anim-music.org