Santa Vittoria

Santa Vittoria in Matenano combines the familiar atmosphere of a small Mediterranean village with the marvellous ancient architecture of a town that once ruled the territory. Accommodation is in three ancient but recently renovated buildings. Rehearsals take place in the Palazzo Monti (built in the 17th century), the Teatro del Leone (a theatre of classical Italian style) and an ancient convent. All of them lie on the Corso that, with its bars and cafes, lets you enjoy Italian lifestyle.
Santa Vittoria provides panoramic views of the Apennine Mountains and the Adriatic Sea. Other destinations for excursions include beautiful cities like Urbino, Macerata and Ascoli Piceno. In the immediate surroundings of Santa Vittoria, gentle pathways invite you to go for a walk through the hills.
Coming next in Santa Vittoria:
Symphony Orchestra
7th - 16th July 2019


Symphony Orchestra
7th - 16th July 2019

Conductor: David Sofer
Violin: Hande Küden
MOZART, Overture "Nozze di Figaro"
BEETHOVEN, Violin Concerto
MENDELSSOHN, Symphony No. 3 "Scottish"
ALREADY OCCUPIED: flutes, oboes, clarinets, bassoons, cellos, double basses, horns, trumpets, timpani
VACANCIES: violin, viola

7th JULY
Arrival of the participants in Santa Vittoria
ON THE FOLLOWING DAYS,
Rehearsals (sectionals and tutti) will be in the morning until lunch and in the evening after an early dinner. Instruction by the coaches will be given on the first three days.
In the afternoons, if no rehearsals are scheduled you can explore the surrounding of Santa Vittoria or just enjoy the peace and quiet of the place. Optional trips are arranged to local places of interest.
14th JULY
In the evening we will have our final concert at the Teatro Serpente Aureo in Offida.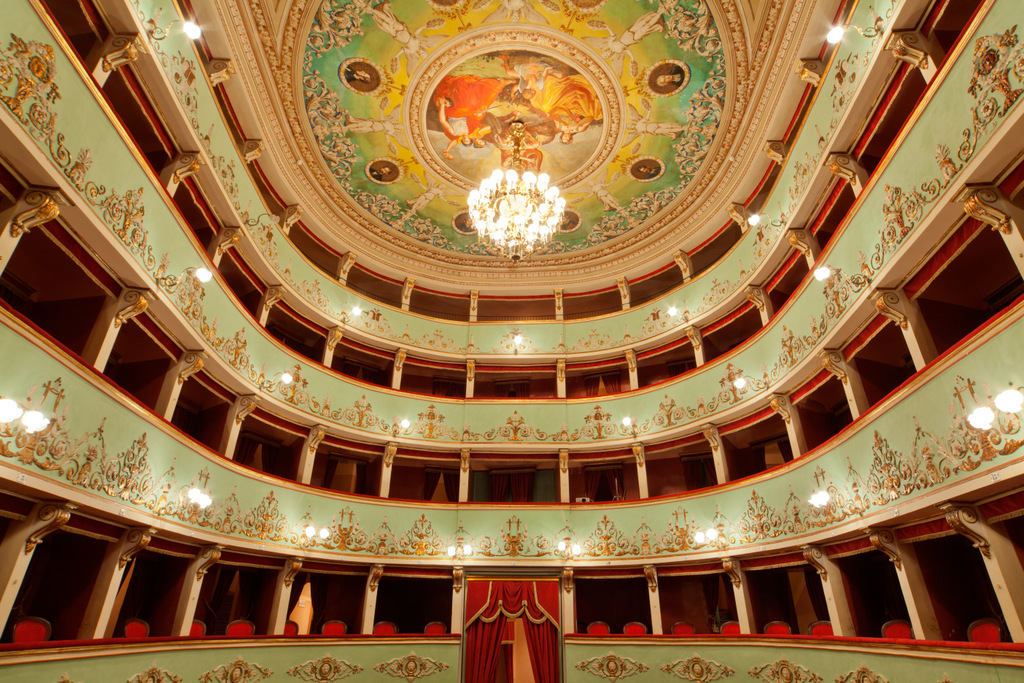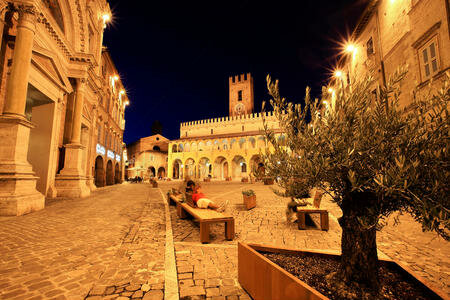 15th JULY
We will organize various excursions, that might include: An outing to the beautiful historical towns of Ascoli Piceno and Fermo; a day out at the seaside or a hiking tour through the wonderful Sibillian Mountains. In the evening we will have a farewell dinner in Santa Vittoria
16th JULY
Departure
ACCOMMODATION
The participants will be accommodated at Hotel Farfense (3 stars), Palazzo Monti and Casa Gloria in double rooms, all with private toilet. A limited number of single rooms is also available.
MEALS
Catering is provided by the regionally renowned kitchen of Hotel Farfense. The cook Daniela Funari will coddle you with local dishes including home made pasta.
Daniela, Giampiero and Federico Funari from the Hotel Restaurant Farfense welcome you in Santa Vittoria!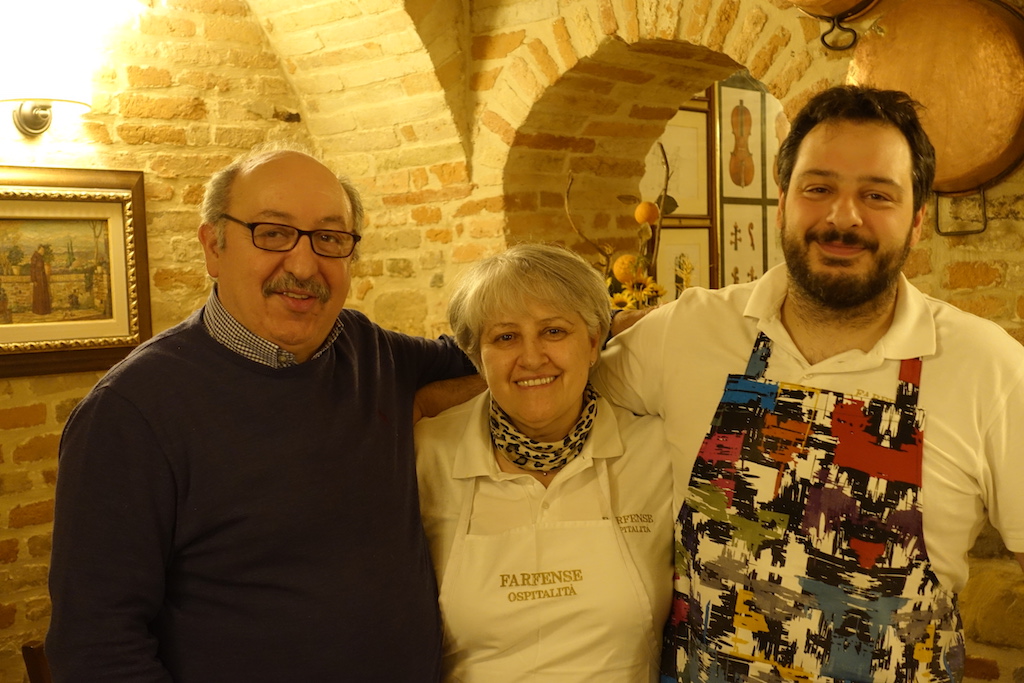 TRAVEL
A pick up service is provided from the nearest airports and long distance train stations Ancona and Pescara, and also from airport Rome Fiumicino. Please ask us about details, we are happy to help you with organizing your trip!
PRICE
890,- € (840,- € for booking until 31st January 2019) including accommodation and meals. Not included are travel expenses and expenses on excursions. Students: 580,- €. The reduced fee for students is limited to the number of five places on this Symphonic Holiday.
Supplement for single room: 150,- €
BOOKING
If you wish to book this programme kindly use the booking form or send us an e.mail (mail@dacapo-travel.eu, writing in English, German, French or Italian). Your booking is binding as soon as we have confirmed it.
A down payment of 150, € is due at the time we confirm your booking, the rest six weeks before the programme.
Update 29 december 2018: Due to the number of participants already registered, this Symphonic Holiday is now confirmed. Meaning that it certainly will take place and won't be cancelled, allowing you to immediately make your travel arrangements.