Santa Vittoria

Santa Vittoria in Matenano combines the familiar atmosphere of a small Mediterranean village with the marvellous ancient architecture of a town that once ruled the territory. Accommodation is in three ancient but recently renovated buildings. Rehearsals take place in the Palazzo Monti (built in the 17th century), the Teatro del Leone (a theatre of classical Italian style) and an ancient convent. All of them lie on the Corso that, with its bars and cafes, lets you enjoy Italian lifestyle.
Santa Vittoria provides panoramic views of the Apennine Mountains and the Adriatic Sea. Other destinations for excursions include beautiful cities like Urbino, Macerata and Ascoli Piceno. In the immediate surroundings of Santa Vittoria, gentle pathways invite you to go for a walk through the hills.
Coming next in Santa Vittoria:
Symphony Orchestra
24th July - 2nd August 2020


Symphony Orchestra
24th July - 2nd August 2020
Coronavirus
Due to the Coronavirus crisis this Symphonic Holiday is cancelled.
Conductor: David Sofer
Oboe: Jaime González
PROKOFIEV, Classical Symphony
STRAUSS, Oboe Concerto
GOUNOD, Symphony No. 1

AN ASTONISHING 40 MUSICIANS from three continents had gathered in Santa Vittoria in Central Italy for the first time in July 2019 for a week of music, sightseeing and recreation, culminating in a concert in the Theatre in Offida. We were warmly welcomed by the local people, which was just as well as they were pretty much unable to escape the sound of our rehearsing for a week. Mille grazie to the Funari family, Daniela and Giampiero and their children Francesca and Federico who joyfully did everything to make us feel at home in their Hotel & Ristorante Farfense.
A report on our Symphonic Holiday in Santa Vittoria last summer has been published in the November 2019 edition of the magazine Reeding Matter of the Australian Double Reed Society. Many thanks for this detailed description to the author Anthony Radogna, an oboe player who had joined us from Adelaide. Click here to read the full article.
Such was the success of this first foray to Santa Vittoria, that we immediately scheduled another Symphonic Holiday from 24th July to 2nd August 2020. David Sofer will be conducting again, and the renowned soloist Jaime González will enchant us with his oboe.
ALREADY OCCUPIED: flutes, clarinets, bassoons, trumpets
You can sign up for the waiting list if your instrument is already taken.
24th JULY
Arrival of the participants in Santa Vittoria
ON THE FOLLOWING DAYS,
rehearsals will be in the morning until lunch and in the evening after an early dinner. Instruction by the coaches will be given on the first three days.
27th and 30th JULY
No rehearsals are scheduled in the evening. On these days we organize an excursion, that might include: An outing to the beautiful historical towns of Ascoli Piceno and Fermo; a day out at the seaside or a hiking tour through the wonderful Sibillian Mountains.
28th JULY
In the afternoon we visit the wine estate Fattoria Dezi and have our rehearsal on their panorama terrace, followed by a dinner with wine tasting.
31st JULY
First concert in the evening in Santa Vittoria at the Teatro del Leone
1st AUGUST
In the evening we will have our final concert, followed by the farewell dinner.
2nd AUGUST
Departure
ORCHESTRA
Prokofiev: 2 2 2 2 — 2 2 0 0 — tmp — str
Strauss: 2 1[Eh] 2 2 — 2 0 0 0 — str
Gounod: 2 2 2 2 — 2 2 0 0 — tmp — str
ALREADY OCCUPIED: flutes, clarinets, bassoons and trumpets
You can sign up for the waiting list if your instrument is already taken.
TEAM
Conductor: David Sofer
Soloist: Jaime González
Coach violins: Rodrigo Bauzá
Coach violas: Eerika Pynnönen (to be confirmed)
Coach cellos and double basses: Adriano Ancarani
wind sectionals will be led by David Sofer
GENERAL INFORMATION / FAQ
Please do also read our general information with frequently asked questions on Symphonic Holidays.
ACCOMMODATION
The participants will be accommodated in the historic centre of Santa Vittoria at Hotel Farfense or in apartments of equivalent standard, all with private toilet. A limited number of single rooms is also available.
MEALS
We will have our meals at the regionally renowned restaurant of Hotel Farfense. The cook Daniela Funari will coddle you with local dishes including home made pasta.
Daniela, Giampiero and Federico Funari from the Hotel Restaurant Farfense welcome you in Santa Vittoria!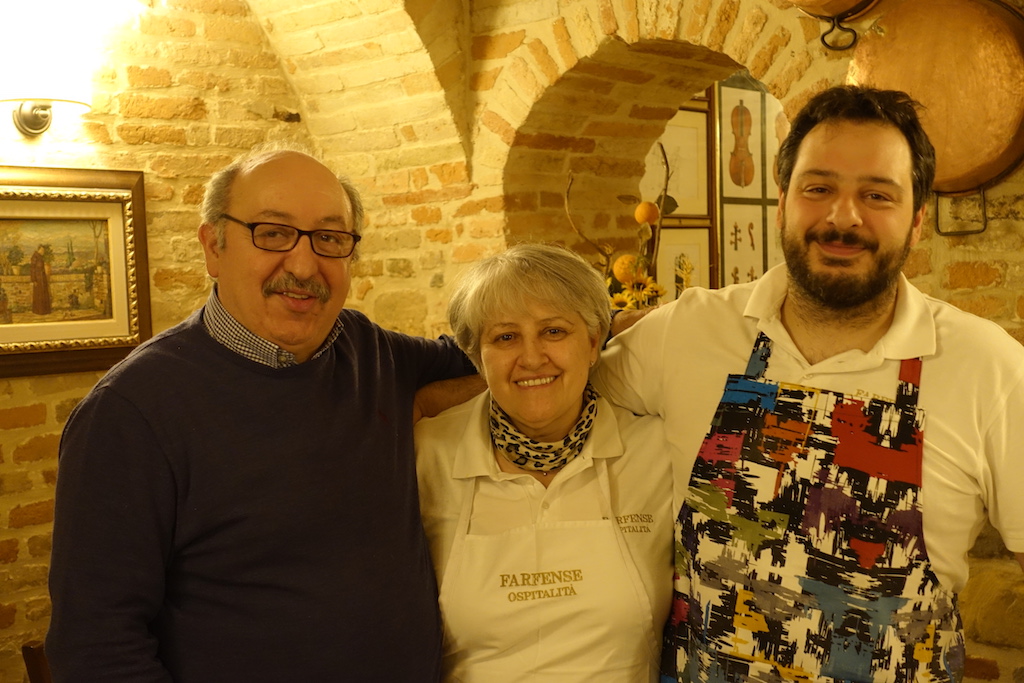 TRAVEL
A pick up service is provided from the nearest train stations. We will also arrange a direct bus from / to the airport Rome Fiumicino on 24th July in the afternoon (or according to different participant's flight schedules), and in the morning on 2nd August. Travel time from Fiumicino to Santa Vittoria is approximately 3 ½ hours, the cost for the bus is 40,- € one way. Please ask us about details, we are happy to help you with organizing your trip!
PRICE
930,- € including
- accommodation
- meals (breakfast, lunch and dinner including wine), except dinners on the two excursions on 27th and 30th July
- dinner & wine tasting at Fattoria Dezi
- bus transfers on the two excursions on 27th and 30th July
Students: 610,- €. The reduced fee for students is limited to the number of five places on this Symphonic Holiday. Accommodation for students will be in the guest house of the convent Santa Caterina.
Supplement for single room: 225,- €
BOOKING
If you wish to book this Symphonic Holiday, kindly use the booking form or send us an e.mail (mail@dacapo-travel.eu, writing in English, German, French or Italian). Your booking is binding as soon as we have confirmed it.
A non-refundable deposit of 150,- € is payable on confirmation that a booking has been accepted. The balance of the price is to be paid by 12th June 2020. Should a participant cancel a booking the deposit of 150,- € will not be reimbursed.
UPDATE 25th November 2019
Due to the number of advanced bookings, we are happy to confirm this Symphonic Holiday will go ahead. So you can immediately make your travel arrangements.
"This experience greatly exceeded my expectations, musically and in every other way. I hope to see you again on a future Symphonic Holiday!"
Nancy (cello), Baltimore / USA
"To all our friends – many thanks for a wonderful, memorable week."
Margaret (cello) with Steve, Ra'anana / Israel
"Thank you very much for all what you did, we are very impressed of your skills and talent and your initiative to give birth to Symphonic Holidays. Good idea and we will follow you in the future too."
Adi (violin) with Jaques, Gedera (Israel)
"The balance between music and fun was perfect. In this busy, stressed, sometimes too dark world, this has been a respite and a regeneration for me."
Yvonne (cell), Baltimore (USA)
"Amateur musicians from all over the world were gathered in this beautiful musical holiday. In a few days, we all mutually socialized, and thus formed a harmonious orchestra. David Sofer, the conductor, had an indispensable role in this harmony. His meticulous, subtle and impeccable conducting brought us to a high level of performance. Everything was well organized. Food was delicious. Thank you Giampiero and Daniela!"
Zeki (violin), Herzeliya / Israel
"Grazie Mille! È stata una settimana bellissima. Non soltanto il mangiare (ch era ottimo!), tutto, la musica e l'amore che vive in questo albergo. Spero veramente che ritorniamo l'anno prossimo!!"
Louise (double bass), Riehen / Switzerland
"Ein wunderbar gelegener Ort mit köstlicher Verpflegung im Ristorante Farfense, guten Proben (der Probenort im Weingut Dezi ein Traum) mit vielen netten Leuten, schönen Ausflügen in die nächste Umgebung und einem gelungenen Abschlusskonzert im Theater von Offida. Es ist nun schon meine 5. Orchesterreise mit der Sinfonietta. Wir sehen uns sicher wieder in …?"
Gertrud (cello), Stuttgart / Germany